[:en]

Borgen is the colloquial term that is known to Christiansborg Palace, seat of the three state powers and the Prime Minister's office. Borgen's show story begins three days before the general election, which will elect the new Prime Minister. Birgitte Nyborg, the main protagonist, is a candidate for the Moderate Party, a party hinge rather than a party with chances of success. But after the electoral surprise, Birgitte becomes Prime Minister of the country. From that moment and to work for the Danes, fighting traps the opposition and trying to keep their promises electorales.A his side will, almost always, his communications chief, the young and ambitious Kasper Juul, dealing with the media, trying to communicate correctly and government actions relating to parties that formed the coalition politics.
Adam Price, Borgen creator, who is half British and also the TV chef; "I found it very interesting that in our self Western democracies want not bother to defend democracy might not even vote and is an interesting dilemma..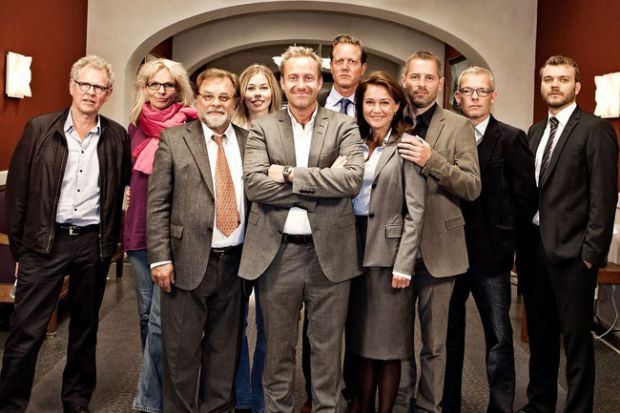 How can we defend democracy while being so cynical about it?".
Borgen has a modesty getting close to truthfulness and without falling into simplicity, for his worldly plots and conspiracies that combine credible interest and disagreements with some fantastic final but far from lab scripts gear near perfect divinity.
It focuses on three pillars: political, media and family. The protagonists are politicians (and their families) and journalists (and relatives). The plot is the arrival of Birgitte Nyborg to the Government of Denmark with its subsequent metamorphosis. Chubby insecure Iron Lady from the progressive and moderate center party. She is leading a smaller group, it is the voice and face of the new democracy. The series not only reflects the role of women and family conciciliación in the world of politics through the leading role of Prime Minister Nyborg but also shows the strong relationship between journalism and politics.
Everyday conflicts sustain the crossroads of State. As they ascend and descend the characters. As hackneyed as well focused problems: lack of time, divorce, children, women incorporated into the workplace, nannies grandmothers, labor tripping, talent, lack of scruples, loyalty, illness, mature love …
[:es]

Borgen es el término coloquial que se le da al Palacio de Christiansborg, sede de los tres poderes del Estado y la Oficina del Primer Ministro. La serie comienza tres días antes de las elecciones generales, en las que se elegirá el nuevo primer ministro. Birgitte Nyborg (Sidse Babett Knudsen), ella es una candidata para el Partido Moderado, una bisagra del partido en lugar de un partido con posibilidades de éxito. Pero después de una gran sorpresa electoral, Birgitte se convierte en la primera ministra del país. A partir de ese momento y para trabajar por los daneses, comenzara la lucha contra las trampas de la oposición con el prpósito de mantener sus promesas electorales. A su lado, su jefe de comunicaciones, el joven y ambicioso Kasper Juul (Pilou Asbæk), quién trata a los medios de comunicación y gestiona la imagen de sus clientes de una manera machiavélica, pero aún así el se encuentra incapaz de encauzar su propia vida.
Adam Price, creador de Borgen , que es también medio británico y un Chef televisivo; "Me pareció muy interesante que en nuestras democracias occidentales no quieran que se molestan en defender la democracia, ni siquiera para que podrían votar y es un dilema interesante …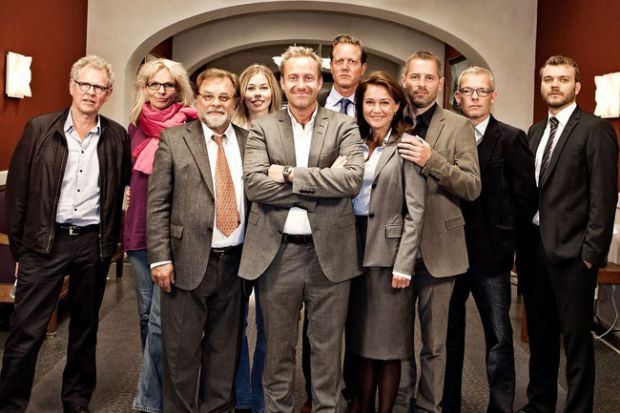 "¿Como podemos defender la democracia mientras somos tan cinicos sobre ella?".
Borgen presenta una modestia civil con acercarse a la veracidad, al día a día político sin caer en la simplicidad gracias a sus tramas y conspiraciones mundanas que combinan acciones diarias y desacuerdos con algunos fantásticos finales, pero manteniendo las distancias con la de los complicados guiones con engranajes de laboratorio cercanos de la divinidad.
Se centra en tres pilares: el político, los medios de comunicación y la familia. Los protagonistas son los políticos y periodistas (y familiares). La trama es la llegada de Birgitte Nyborg al Gobierno de Dinamarca con su posterior metamorfosis. Acomplejada e insegura dama de hierro del partido de centro progresista y moderada. Es responsable de un grupo más pequeño, que es la voz y la cara de la nueva democracia. La serie no sólo refleja el papel de la mujer y la familia conciciliación en el mundo de la política a través del papel de liderazgo del primer ministro Nyborg, pero también muestra la fuerte relación entre el periodismo y la política.
[:]