[:en]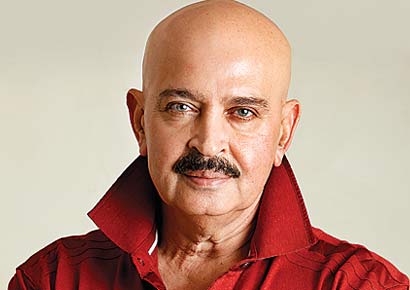 Rakesh Roshan
started off as an actor with
T. Prakash Rao's
, 'Ghar Ghar Ki Kahani' (1970). Apart from this film, he has worked in more than 60 films throughout his career. His father,
Roshanlal Nagrath
was a famous music director of Bollywood and
Rajesh Roshan
, his younger brother is also into the same line of music direction. He has his own personal production company named
'Filmkraft'
which was inaugurated in the year 1980. The first project undertaken by
Filmkraft
was
Surendra Mohan's
'Aap Ke Deewane'. As a director, his first film was
('Khudgarz',1987)
following which he went on to direct numerous blockbuster films namely
('Kishan Kanhaiya',1990)
and
('Karan Arjun',1995)
. He is well known for directing movies which begins with the letter 'K'. In the mid-90s, he acted in films occasionally and his entire focus was mostly on directing movies.
Next up, he introduced his son Hrithik Roshan into the industry with the film ('Kaho Naa… Pyaar Hai',2000). It went on to become the highest grosser in the year 2000 and also made its entry into the Limca Book of Records for being the Bollywood movie to grab most awards. He again directed his son in the science fiction movie titled ('Koi…Mil Gaya',2003). This movie earned him the Best Director award at the 2004 Filmfare awards. He went on to direct the sequel to 'Koi…Mil Gaya' in 2006 titled 'Krrish' which also became a major hit at the box office.
The plot relate a story about  a scientist (Rakesh Roshan) invents a computer to send sounds into outer space. Using the sound "Aum," he makes contact with an alien life form, but his fellow scientists laugh at his claims. Despondent, he drives home with his wife (Rekha). A spaceship interrupts their journey, and causes the excited Sanjay to crash. He is killed and his unborn child is injured in the accident. Rohit (Hrithik Roshan) grows up brain-damaged. He's stuck in a class with much younger kids and longs to advance academically, but he continually flunks. On top of that, he and his young friends are frequently bullied by Raj (Rajat Bedi) and his gang of thugs. Then Nisha (Preity Zinta), a beautiful young woman, moves to town. After a couple of comic misunderstandings, Nisha takes an interest in Rohit. Rohit asks Nisha to teach him computers, and they dig up his father's old device, inadvertently sending another message into space. Soon, another ship arrives, and this time, a funny little blue alien is left behind. Rohit takes the little one in, and soon finds himself being magically healed. Suddenly, he can see without his glasses, and soon he develops a quick mind and superhuman strength. Not only that — he can dance. So he and his friends call the alien "Jadoo." Raj grows jealous of all the time Nisha is spending with Rohit. He finds that now Rohit is strong enough to defend himself. But the authorities are searching for Jadoo, and Rohit is determined to keep his little friend safe, no matter what the cost. Director Rakesh Roshan last directed his son, Hrithik, in Kaho Naa…Pyaar Hai, the film that made him a star. The big-budget Koi…Mil Gaya was promoted as the first science fiction film to come out of Bollywood.
It is the second film being the sequel to Koi… Mil Gaya, and relates the story of Krishna, the son of the previous film's protagonists, who inherits his father's superhuman abilities. After falling in love with Priya, he follows her to Singapore, where he takes on the persona of "Krrish" to keep his identity secret while saving children from a burning circus. From that moment on he is regarded as a superhero, and must later thwart the plans of the evil Dr. Siddhant. Dressed in an elegant black dress and covered with a mask face sophisticated look, it runs like the wind, leaps over treetops and skyscrapers and fights evil forces with the help of his supernatural powers.
After defeating the evil Dr. Siddhant Arya and Rohit bring his father from the dead, Krrish fought against evil to save innocent lives. Now Krishna Mehra has left that life and is happily married to Priya, while his father Rohit is using his scientific brilliance for the benefit of society. When the world seemed in order, a dark force is growing in other parts of the world. Kaal, an evil genius, is using his powers for personal gain and spreading fear, death and destruction wherever it pass. It has created an army of dangerous creatures able to obey his every command. Krrish and Rohit have to leave their quiet lives to take action and stop the evil plans of Kaal. Neither he imagined how dangerous it would face Kaal and his army. The world is on the brink of disaster and only they can save humanity.
I believe that the last Roshan lineage has been part of a transition in the technological evolution of Indian cinema. The trend of mixing Hollywood films as Jack, Avatar, Et, Forrest Gum, among other was an obvious strategy to attract public, but also served as a springboard for the growth and development of his film. We can see in the remarkable changes since the first film, passing by the sequeal and clearly with the third part, which is very close to the levels of Hollywood special effects. Waiting for his next job, only expected to follow up with attractive dynamics.[:es]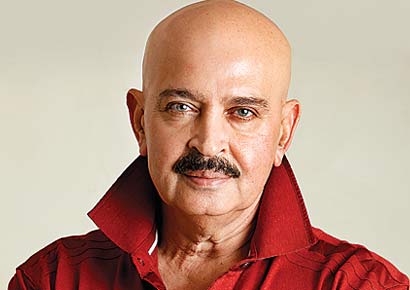 Rakesh Roshan comenzó a trabajar como actor con T. Prakash Rao, 'Ghar Ghar Ki Kahani' (1970). Aparte de esta película, ha trabajado en más de 60 películas a lo largo de su carrera. Su padre, Roshanlal Nagrath fue un famoso director musical de Bollywood y Rajesh Roshan, su hermano, más joven que el, también siguió la misma línea de la dirección musical. Mas tarde creó su propia compañía de producción llamada 'Filmkraft' que fue inaugurada en el año 1980. El primer proyecto que llevó a cabo fue 'Aap Ke Deewane' de Surendra Mohan. Ya como director, estrenó su primera película en 1987 'Khudgarz' tras lo cual pasó a dirigir numerosas películas de éxito como ('Kishan Kanhaiya', 1990) y ('Karan Arjun', 1995). Es famoso el dato de que es bastante conocido por dirigir películas que comienza con la letra "K". A mediados de los años 90, actuó en películas de vez en cuando pero aún así se centró principalmente en la dirección de películas.
Introdujo a su hijo Hrithik Roshan en la industria con la película ('Kaho Naa … Pyaar Hai', 2000). La cual se convirtió en un autentico éxito de ventas y también hizo su entrada en el Libro Limca de los Récords, por ser la película de Bollywood en conseguir la mayoría de los premios. De nuevo dirigió a su hijo en la película de ciencia ficción titulada ('Koi … Mil Gaya', 2003). Esta película le valió el premio al mejor director en los premios Filmfare en 2004. Luego pasó a dirigir la secuela de 'Koi … Mil Gaya' en 2006 titulado 'Krrish', la cual también se convirtió en un gran éxito en la taquilla.
La trama se desarrolla en la historia acerca de un científico (Rakesh Roshan) que inventa un ordenador para enviar sonidos en el espacio exterior. Usando el sonido "Aum", consiguiendo el contacto con una forma de vida extraterrestre, aún así, sus colegas científicos se ríen de sus afirmaciones. Abatido, cuando se dirige a su casa junto a su esposa (Rekha). Una nave espacial interrumpe en su camino, se produce un accidente en el que fallece y su hijo, aún sin nacer, malherido.
Rohit (Hrithik Roshan) crece un con daño cerebral. Su físico tiene un super desarrollo pero no es así con su mente. Atascado en una clase con niños mucho más jóvenes, anhela avanzar académicamente, pero fracasa continuamente. Además de eso, él y sus jóvenes amigos son acosados frecuentemente por Raj (Rajat Bedi) y su banda de matones. Entonces Nisha (Preity Zinta), una mujer joven y bella, se traslada a la ciudad. Después de un par de malentendidos cómicos, Nisha se interesa por Rohit. y  juntos desentierran un antiguo dispositivo de su padre, con el que se hace el envío de otro mensaje de forma inadvertida al espacio. A partir de aquí comienza ha sucederse diferentes aventuras en torno a un azulado personaje.
Varios años después aparecería la secuela de Koi … Mil Gaya, que relata la historia de Krishna, el hijo de las películas anteriores protagonistas, que hereda habilidades sobrehumanas de su padre. Después de enamorarse de Priya (Priyanka Chopra), la sigue a Singapur, donde crea al personaje de "Krrish" para mantener en secreto su identidad, tras salvar a los niños de un circo en llamas. A partir de ese momento se le considera como un superhéroe, y posteriormente debe frustrar los planes del malvado Dr. Siddhant. Vestido con un elegante vestido negro y cubierto con una sofisticada máscara, corre como el viento, salta por encima de los árboles y los rascacielos y lucha contra las fuerzas del mal con la ayuda de sus poderes sobrenaturales.
Después de derrotar al malvado Dr. Siddhant Arya y traer a su padre de entre los muertos, Krrish lucha contra el mal para salvar vidas inocentes. Pero cuando el mundo parece estar en orden, una fuerza oscura crece en otras partes del mundo. Kaal, un genio del mal, usa sus poderes para beneficio personal y difusión del miedo, la muerte y la destrucción.
Yo creo que Roshan ha sido parte de una transición en la evolución tecnológica del cine indio. La tendencia de mezclar las películas de Hollywood como Jack, Avatar, Et, Forrest Gum, entre otras era una estrategia obvia para atraer público e intentar lanzarla al extranjero sin dejar pasar que también sirve como un trampolín para el crecimiento y desarrollo de su película. Podemos ver en los notables cambios desde la primera película, pasando por la secuela y claramente con la tercera parte, que no deja mucho que envidiar a los niveles de efectos especiales de Hollywood. A la espera de su próximo trabajo, sólo se espera que siga con esa atractiva dinámica.
[:]