[:en]
One month ago a govermement institution inform me about the chance to start a new adventure in Italy, Since that I have tried to catch up with materials and knowledge that had not been studied in depth by priority issues than others which are presumably more competent facing the laboral world.
This chance gives me the opportunity to engage fully in the world of theater. To participate in all its variants, some already experienced and also be prepared to surprise with others. Among them is an old friend with whom I flirted and unordered ways in several occasions. Yes, friends, it is the complex and flirtatious Opera.
My first experience dates back to mid-December 2009, at that time I was studying in Milan and I stumbled upon my operatic baptism on an unexpected and unusual way, but in an unforgettable time. The venue was the Teatro alla Scala di Milano and the play was CARMEN  from Bizet.
In the beginning my ignorance aided looked through the previous viewing of the film starring by Paz Vega and directed by Vicente Aranda ('Carmen',2003), but at the end of the first act I forgot to get carried away by the fantasy of the moment. It should be emphasized again the term unusual as my way to access the theater temple was unconventional, being a method which could not have seat all function. This lasted 5 hours, which were one of the most exciting of my life.
Christmas and exams time kept me busy for a while. But after this time I did not let pass the opportunity to attend a new function, in this occasion thanks to the publication from a young journal to a 'pre-premiere' of a German-speaking Das Rheingold play, created by Wagner.
This had the peculiarity in which the suplent starring character took over the role, with no experience or any rehearse to the public before the premiere. I must say that from my ignorance that the interpreter was superb, and if I had not known that fact, I would not perceived in any way. The work itself had a more contemporary visual style without classic apexes.
Instead, thanks to the contrast with Bizet's opera, I discovered to perceive the differences between them. Wagner showed me a dark soul driven by a majestic musical composition which was the interpreter an even more grandiose in each of its interventions.
On my return to Spain I did not attend more performances, yet I saw many pieces on the internet. As a result, I managed to sharpen a bit more from the audio and visual aspect between the different productions.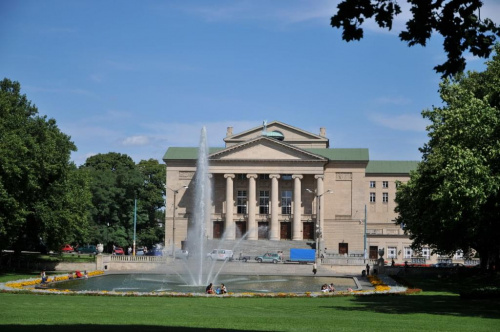 I began a new stage in Poland, specifically in Poznan. I chose a City by several factors among which was the its amazing Theatre. But for various reasons I did not find the time to attend a new representation. This would not be until November 1, 2013, the day I attended my last opera til now. La Traviatta by Giuseppe Verdi in the Teatro Florida from Algeciras, a much more modest but with the same amazing atmosphere of the previous events..
In my opinion I consider the Opera as the totalitarian expression of art in their essence. From the craftsmanship of the props, the careful and delicate lighting and the composition  which can levitate both, vocal and musical performers. A laborious human chain that manage to convey all its magic live way, giving us a unique moment, a moment that will never be repeated and that never existed before.
[:es]
Hace un mes me informaron de la ocasión de comenzar una nueva aventura en Italia, por esta razón he intentado ponerme al día con materias y conocimientos que no había estudiado en profundidad por cuestiones prioritarias ante otras que son presumiblemente más primordiales de cara al mundo laboral.
Esta oportunidad me regala la ocasión de involucrarme de lleno en el mundo del teatro. De participar de todas sus variantes, algunas ya experimentadas y otras preparadas para sorprenderme. Entre ellas se encuentra una vieja amiga con la que he flirteado en varias y desordenadas ocasiones. Sí amigos, ella es la compleja y coqueta Opera.
Mi primera experiencia se remonta a mediados de Diciembre de 2009, por aquel entonces estudiaba en Milán y topé con mi bautizo operístico de una forma inesperada e inusual, pero a la vez grandiosa. El recinto fue el Teatro alla Scala di Milano y la obra CARMEN de Bizet.
En el principio mi ignorancia se veía auxiliada gracias al anterior visionado de la película protagonizada por Paz Vega y dirigida por Vicente Aranda ('Carmen',2003), pero ya por el fin del primer acto me olvidé de lo recordado para dejarme llevar por la fantasía del momento. Hay que recalcar de nuevo el término inusual, ya que por mi forma de acceder al templo teatral fue inconvencional, siendo un método el cuál resultaría no tener asiento en toda la función. Esta duraría 5 horas, las cuáles fueron una de las más estimulantes de mi vida.
El tiempo pasó, las navidades y la época de exámenes me mantuvieron ocupado. Pero tras esta época no dejé de pasar la oportunidad de asistir a una nueva función, esta vez gracias a la publicación de un anuncio de un pre estreno de la obra de habla alemán Das Rheingold creada por Wagner.
Esta ocasión tenía la peculiaridad de que se trataba de una función de la que el suplente del personaje principal se hacía cargo del papel, tratándose de la única práctica frente al público antes del estreno. Hay que decir que desde mi ignorancia, el interprete estuvo soberbio, y si no hubiera sabido ese dato, no lo habría percibido de ninguna forma. La obra en sí tenía un estilo visual más contemporáneo, sin ápices clásicos. En cambio, gracias al contraste con la opera de Bizet, descubrí a percibir las diferencias entre ellas. Wagner me demostró un alma más oscura conducida por una majestuosa composición musical la cual hacía del interprete un ser aún mas grandioso en cada una de sus intervenciones.
A mí vuelta a España no asistí a más representaciones, pero visioné bastantes obras en internet subtituladas. Gracias a ello, logré agudizar un poco más desde el aspecto sonoro al visual entre las diferentes producciones.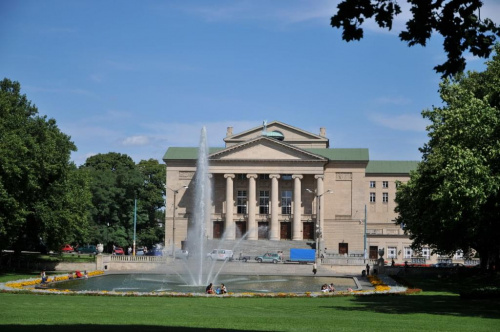 Comencé una nueva aventura en Polonia, concretamente en Poznan. Ciudad que elegí por diversos factores entre los cuáles se encontraba su magnífico Teatro. Pero por diversos motivos no encontré el momento de asistir a una nueva representación. Esto no sería hasta el 1 de Noviembre de 2013, día al que asistí a mi última opera. La Traviatta de Giuseppe Verdi en el Teatro Florida de Algeciras, un evento mucho más modesto pero con la misma asombrosa atmósfera de los anteriores.
A mi opinión la considero como la expresión totalitaria del Arte en su esencia. Desde el trabajo artesanal del atrezzo, la cuidada y delicada iluminación, la composición de obras que hacen levitar tanto a los intérpretes vocales como a musicales. Una laboriosa cadena humana que logran transmitirnos toda su magia en pleno directo, regalándonos un instante único, un instante que nunca se volverá a repetir y que nunca existió antes.
[:]