[:en]
The Oresund bridge, 16 kilometers and two train lines and four lanes of cars, is the longest of its kind in the Old Continent, linking the Danish capital Copenhagen with the Swedish city of Malmo. Its -for construction of a Danish company, another Swedish and German collaboration. This is a smart and very well planned excuse for that Danes and Swedes are combined in the cast, thus satisfying both co-production partners. In Sweden it seems more organized and cold. In Denmark all seems closer, warmer.This production of the DR Danish and Swedish TV station SVT (Bron in Swedish, Broen in Danish) is an intense police thriller in ten chapters have time to pose the interesting questions and dilemmas viewer through a story in which people of all kinds, regardless of apparent connection together, they end up in the hands of the same man.
The show plays from the beginning, with the evolution of the relationship between the two policemen who is the most interesting that can be seen in recent times, both helping each other overcome their personal problems while professionally going forward with the case.Martin and Saga are two policemen from Sweden and Denmark to cross paths on a crime committed in the bridge linking the two countries, just over the border. The two protagonists can not have more different personalities and yet so compatible.
Martin and Saga are two policemen in Sweden and Denmark to cross paths on a crime committed in the bridge linking the two countries, just over the border.The two protagonists can not have more different personalities and yet so compatible.
Martin Rohde is the chief of homicides in Copenhagen and a parent, do you know when to push and lift the foot when the situation requires. Has an infectious laugh, is very observant and the only one who understands his new colleague.
Saga is weird, blonde, clever, solitary woman (because she will) with difficulties in interacting with others suffering from Asperger syndrome. Lives alone their pending work. She knows exactly what he wants and how to get it when you need it. Her abruptness in dealing with people and lack of political correctness, causes the best show scenes, with the added merit makes us look like a beloved character.
Both begin an investigation that will try to hunt down a mysterious psychopath terrorist ethical commits crimes not for pleasure but to alert society about five major problems facing older citizens: child labor, corrupt journalism, discrimination racial, political …
A very important point to be losing dubbing and it is also difficult to capture in the original version, is bilingualism on the show, which it enrich the final piece.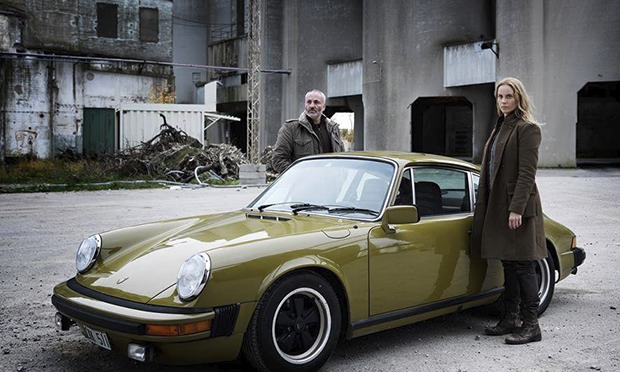 Echoes start as a cross in you,
Trembling noises that come too soon
Spatial movement which seems to you,
Resonating your mask or feud
[:es]
El puente de Oresund, con 16 kilómetros, dos líneas de tren y cuatro carriles de coches, es el más largo de su tipo en el Viejo Continente, que une la capital danesa, Copenhague con la ciudad sueca de Malmö. Su construcción -con colaboraciones por parte danesa, sueco y alemana. En Suecia parece más organizado y frío. En Dinamarca, todo parece más cálido y cercano. Esta producción de la DR danesa y  la sueca SVT  (Bron en Sueco, Broen en danés) es un intenso thriller policiaco en diez capítulos tiene tiempo para plantear las cuestiones interesantes y dilemas a sus espectadores a través de una historia en que personas de diferentes núcleos sociales, sin tener una conexión aparente, van a acabar a las manos del mismo hombre.
El espectáculo se produce, con la evolución de la relación entre los dos policías principales. Estos protagonistas interactúan, tanto ayudándose mutuamente a superar sus problemas personales mientras profesionalmente van resolviendo el caso criminal que les úne. Martin y Saga son dos policías de Suecia y Dinamarca que cruzan sus caminos debido al suceso de un crimen cometido en el puente que une a los dos países, justo en la frontera. Sus carácteres, a primera incompatibles, nos darán una lección a lo largo del trabajo de como la admiración humana y profesional puede lograr la consecución de un  objetivo ala postre difícil.
Martin Rohde (Kim Bodnia) es el jefe de homicidios en Copenhague y padre de familia, sabe cuándo empujar y levantar el pie cuando la situación lo requiere. Posee una risa contagiosa, es muy observador y es el único que entiende a su nuevo compañero.
Saga Noren (Sofía Helín) es una extraña mujer, inteligente y solitaria (porque ella quiere) con dificultades en la interacción social debido entre otras cosas a que sufre de síndrome de Asperger. Solo vive en espera de novedades en su trabajo. A pesar de sus trastornos es una persona decidida, sabe exactamente lo que quiere y cómo conseguirlo.
Ambos comienzan una investigación en la que intentarán dar caza a un misterioso terrorista psicópata que comete crímenes no por placer, sino para alertar a la sociedad sobre los cinco principales problemas que enfrentan los ciudadanos de mayor edad: trabajo infantil, periodismo corrupto, la discriminación racial, política …
Un punto muy importante a tener es la pérdida de detalles en la visualización de la serie con doblaje. Aún sin el es difícil de captar el bilingüismo en la versión original, dónde vemos un inusual choque de culturas entre países vecinos con unas peculiaridades lingüisticas que ayuda a que se enriquezca aún mas la pieza final.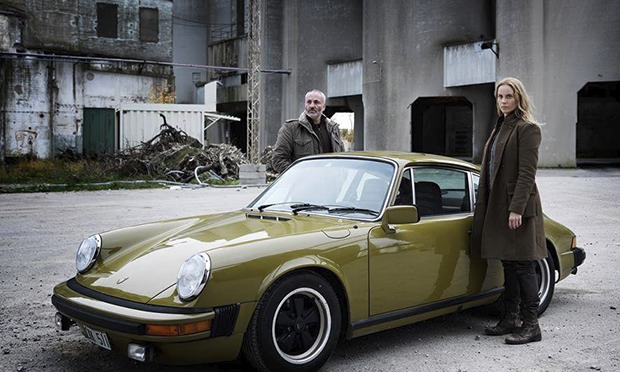 Echoes start as a cross in you,
Trembling noises that come too soon
Spatial movement which seems to you,
Resonating your mask or feud
[:]